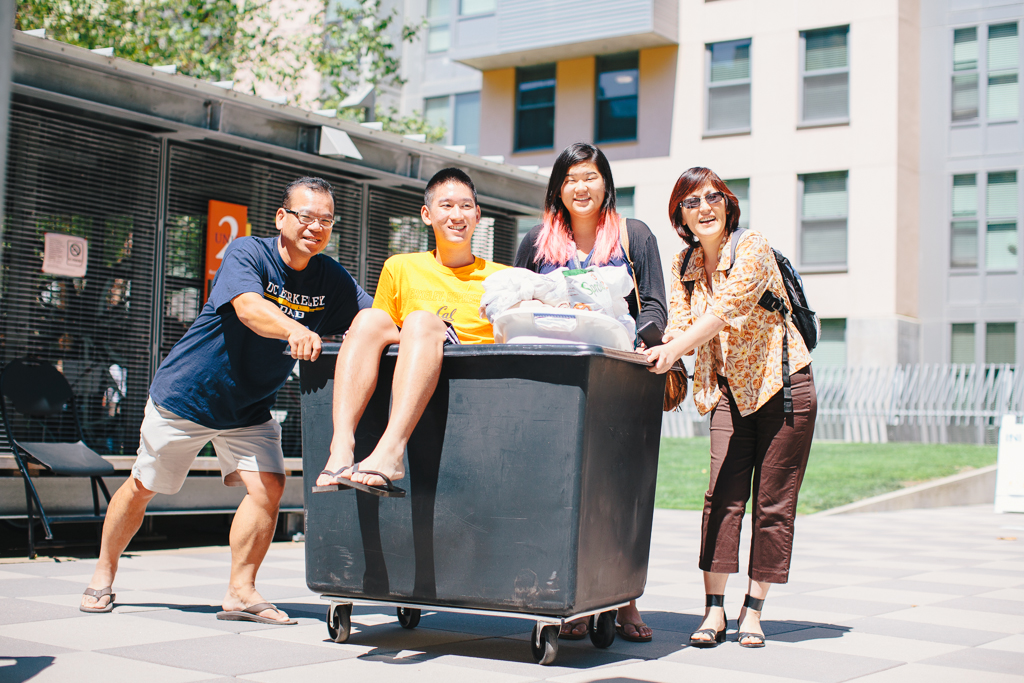 Last updated: August 4, 2023
We're excited that you'll be living on campus, and we look forward to sharing all the details you will need as you transition into Berkeley life. Please refer to the housing portal for your room assignment, residence hall contract information, and more.
Check your email for important updates. This page will be updated over the course of the summer. 
Please contact the Housing Office at 510.642.4108 or at reshall@berkeley.edu if you have any questions. For details about Golden Bear Orientation, visit orientation.berkeley.edu.
See you soon, and Go Bears!
Fall 2023 Move-In Schedule
New Incoming Students (Freshman and Transfer): August 15-16, 2023 
If you're a new incoming student, you'll be invited to move in on either Tuesday, August 15 or Wednesday, August 16 so that you can attend Golden Bear Orientation. Move-In will take place over a two-day period and it's important to note that you will need to move in on your building's assigned day. After you receive your housing assignment via email, you will need to select a Move-In time slot on your Move-In day. 
Continuing (Returning) Students: Sunday, August 20 beginning at 9:00 a.m.
See you soon, and Go Bears!
Remember to Bring
A Screenshot of your Unique Move-In Barcode. Prior to Move-In, please take a screenshot of your unique Move-in Barcode shown in the Housing Portal). When you check in to your housing unit on Move-In day, you will need to show this barcode to Move-in staff. (It's important that you do this ahead of time to avoid delays on Move-In day, when access to the portal may be difficult.)
Confirmation of your Move-In time slot (e.g., email showing your time slot)
A valid (i.e. not expired) government-issued photo ID (e.g. State ID, Driver's License, or passport). Other forms of identification are accepted, however they require additional work and may take longer to process at Check-In:
If you don't yet have (or have lost) the required government-issued photo ID, your high school or college ID will allow you to obtain your key, Cal 1 Card student ID, and AC Transit EasyPass Clipper transit card after you complete a form and have a temporary block placed on your registration.

If you don't have a valid government-issued ID or school ID, send an email to cal1card@berkeley.edu with your name, student ID number, and arrival date for instructions on how to proceed.
On Move-In Day
Please follow your time slot schedule so we can avoid crowds in your building and reduce traffic. You may bring up to two designated helpers to assist with your move. Once you finish moving in, your helpers must leave the building. Plan to spend additional time with family or helpers outside of your housing unit to help reduce crowds throughout the day. 
Arrive at the start of your move-in time slot.
Park in the temporary unloading zone for your housing location.You will be asked to show confirmation of your move-in time slot (e.g., email showing your time slot). You may park in the unloading zone for up to 20 minutes.
Check in at the central courtyard or main entrance of your residence hall to get your keys. Only students will be allowed in check-in lines, so your parents or supporters will need to wait for you in the unloading area or somewhere away from the check-in lines.
After you unload your belongings, please move your car to street parking or to a university parking lot in order to make space for other students moving in. Free two-hour parking is available at designated UC lots. Check Move-In Parking & Directions for more details.
You may want to bring your own dolly or hand-truck for a quicker move in, since you might have to wait a while to use one of our moving carts.
Meals Reminder
If you are a new incoming student attending GBO and you have a meal plan, you will be able to use your meal plan August 15-16. During GBO, from August 17-21, meals will be provided and will be coordinated to accommodate your specific small group schedule.
Late Arrivals
If you miss Move-In, or you arrive after-hours on your Move-In day, please go to the front desk or front door/entrance of your building. Information will be posted there about how to proceed. Please note that if you arrive after business hours (9am-5pm) you will be able to access your room but you may have to wait until the next day to complete the check-in process and get your Cal 1 Card, etc.  Additionally, you will not have access to move-in carts and other support.
Move-In Reminders
Review the Checklist of what to bring (and what not to bring).
Read the Move-In FAQs.
Review the Move-In Parking & Directions page.
Check the My Room page for more information about green living, technology, Personal Property insurance, and more.
See Offers to take advantage of deals and discounts exclusive to Berkeley students.
Room numbers will be available when you arrive on campus. If you need to show proof of your housing contract to a campus office, please refer to your contract confirmation page in the housing portal.
To avoid break-ins, don't leave your belongings inside parked cars, and always lock car doors.
For details on Covid-19 policies, visit the COVID-19 page.
January Move-In: Thursday, January 11, 2024
More information about Move-In will be sent to you via email.