2400 Durant Avenue | Interactive Campus Map | Rates
Launch Unit 1, Unit 2 & Unit 3 Residence Halls
The Residence Hall Complex
High-Rise Residence Halls: Ida Sproul, Norton, Priestley, and Spens-Black Halls
Mid-Rise Residence Hall: Beverly Cleary Hall
Beverly Cleary Hall is a mid-rise building located across the street from Unit 3. It features a lounge on entry level, and includes the Casa Magdalena Mora Theme Program.
Residence Hall Features
These services and amenities are included:
Room Layouts
Please note that models depict one example of each room type. Rooms vary in size, layout, and furniture configuration.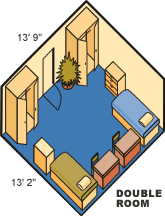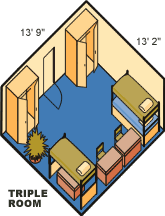 Unit 3 Business Office
510-642-5391 | u3admin@berkeley.edu
Business hours: Monday-Friday; 8 a.m. to 8 p.m., Saturday; 9 a.m. to 3 p.m., Sunday; CLOSED.