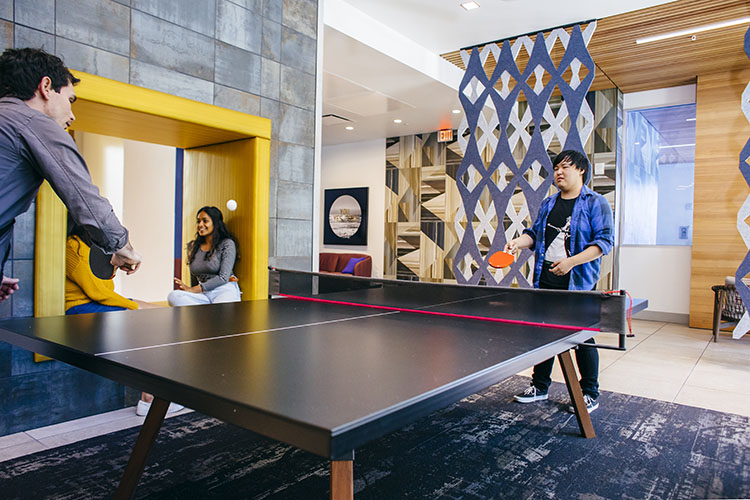 On-campus housing provides services, safety, and success that you won't find off-campus! Not to mention, convenient Berkeley locations. Apply Feb. 1-15 to live in Cal Housing next year .
Even if you're not yet sure about your plans, you can keep your options open by submitting an application. The first round of offers will go out beginning in mid-March, and if you get an offer in the initial round, you'll have about 5 to 7 days to decide if you want to accept it. 
Housing Opportunities for Continuing Students 
There are a variety of residential halls, and some apartments, available for returning students next year, and you can compare housing options:
Residence Halls: Unit 1, Unit 2, Unit 3, Clark Kerr, Foothill, Stern, Martinez Commons, Blackwell, and Theme Programs. Mini-suites, available in Units 1 and 2, offer more privacy as they consist of two rooms sharing one bathroom.
Apartments: Channing-Bowditch, Wada, Martinez Commons, Clark Kerr Apartments, New Sequoia, Panoramic Berkeley, and the Enclave Apartments.
You can also learn more from the Explore Housing Options webpage.
Tips to Make Your Housing Application a Success:
Fill out all sections of the application.
List an answer for all housing options. If you only list 1 housing option, you may not end up getting any offers if that unit is full already.
Many students want the same type of housing, usually single rooms and apartments. Be open to other housing types to maximize your options and increase your chances of getting a housing offer.
Consider accepting an offer, even if it's not your first preference. If you receive a housing offer that is not your top preference, you are encouraged to review the details and make a final choice about signing the contract or declining the offer before the deadline passes.
With an increase in on-campus housing options to choose from, you can find the living situation that works best for you. From having the burden of worrying about utilities and furniture alleviated, to enjoying various financial benefits, living on campus has a lot to offer.
Financial Support: All-inclusive, individual academic year housing contracts, no credit checks, no cosigner needed, the convenience of billing through CalCentral
Academic Success: Computer labs, study lounges, academic support, residential faculty
Student Life: Community, trained residential life resources
Safety & Security: Residential Psychologist, security monitors, card access only facilities, Bear Walk (night safety escort) service
Comfort & Convenience: Fully furnished, centrally located, custodial services, laundry on-site, Wifi, streaming TV, online Cal Central billing
8 Benefits of Living On Campus
You can't beat the benefits that come with living on campus!
Academic success
Safety & security
Community
Furnished housing
All-inclusive options
Larger financial aid packages
No upfront large deposit
Close to your classes