2520 Channing Way | Interactive Campus Map | Rates
About the Complex
A modern, dynamic, environmentally sustainable building that includes both residence halls and apartments.

Location: Two blocks from campus in the urban heart of Berkeley, close to local cafes, restaurants, and shops.

Open during winter break: Martinez Commons is the only campus residence hall open during winter break; room rates are inclusive of occupancy during this period.

Room types: Double and triple rooms with all-gender community bathrooms; single-gender floors have single-gender community bathrooms.

Living learning community: The Transfer Living Learning Community
Who's Eligible to Apply?
Undergraduates: continuing students and transfer students. (Priority is given to sophomores.)
Residence Hall Features
These services and amenities are included:
Berkeley Dining Blue Meal Plan (learn more about Meal Plans, with flexible upgrade plans and add-on flex dollar options)

Utilities: gas, electric, water, garbage, recycling, and compost

Furnishings: extra-long twin bed (triple rooms include a bunk bed & a lofted bed), desk, chair, dresser, mirror, and closet

Appliances in room: Microchill refrigerator and microwave combo unit (contracts include an Equipment Fee for its use; details can be found on the Rates page.)

High speed Wi-Fi, Xfinity streaming TV, and phone jack outlet

Professional live-in staff and 24/7 emergency response

Laundry center, mail services, and bike storage

On-site central fitness center and recreation room

Three tiers of secured entry and access for buildings

Academic Services Center with PC and Mac workstations, laser printers, and network connection as well as tutoring classrooms and quiet study room.

Large main lounge with big-screen TV, pool table and open-concept lounges in the lobby, plus study rooms on each residence hall floor and one social lounge on each residence hall floor

Shared kitchenette

Smoke-free environment (smoking only permitted outside in designated areas)
Room Layouts
Floor Plans & Layouts
Residence Hall Double Room …(click to see larger image)…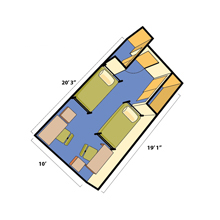 Martinez Commons Business Office
Business hours: Monday-Friday; 8 a.m. to 8 p.m., Saturday; 9 a.m. to 3 p.m., Sunday; CLOSED.